6 Day Sea Kayak Expedition - Whitsunday Islands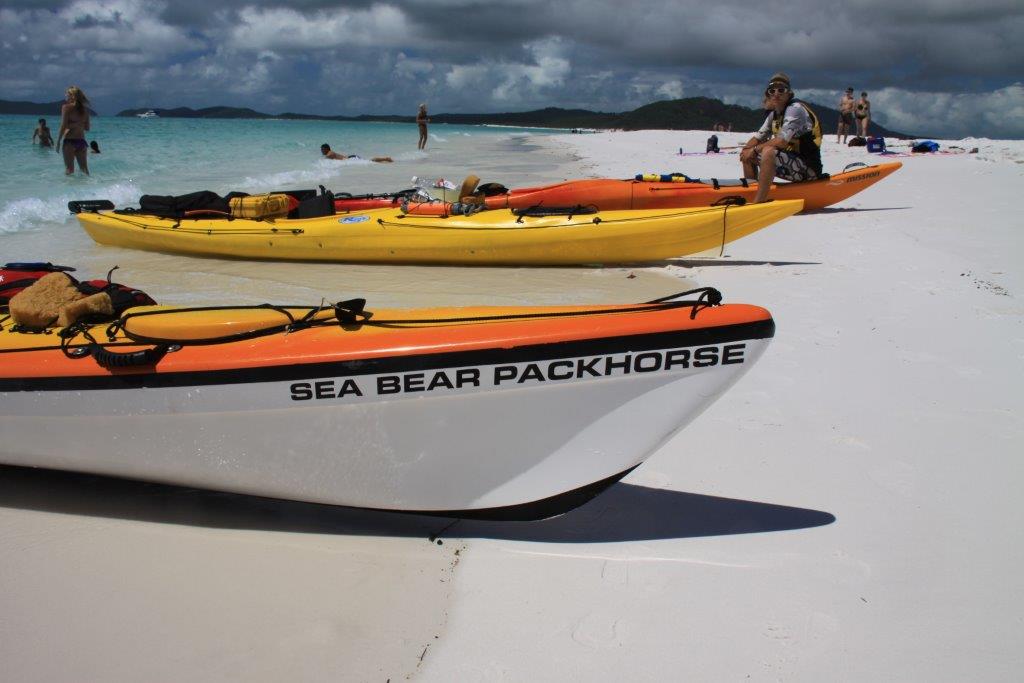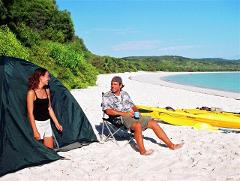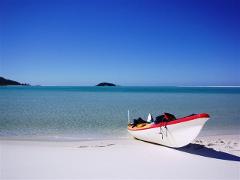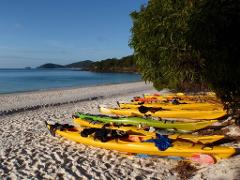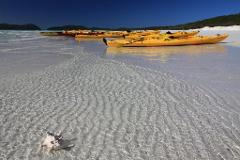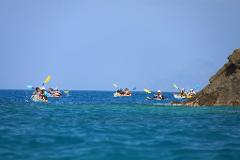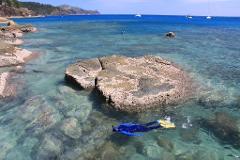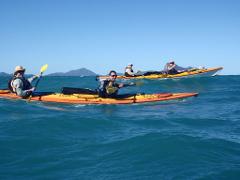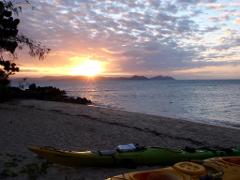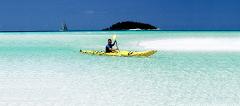 Trvanie: 6 Dní (cca.)
Kód produktu: 6DAY
This is the ultimate in overnight kayaking expeditions.
Spend 6 days exploring the Whitsunday wilderness, with our friendly and
informative guides.
Immerse yourself in the sparkling turquoise waters that lap the white silica sands of Whitehaven Beach.
Marvel at the iconic views from Hill Inlet and enter the amazing
underwater world of fringing coral reefs. Snorkeling, bush walking and
camping out under the stars are all part of this experience you will
never forget.
Typical trip schedule
Day 1: Pick up by courtesy bus from your
accommodation 8.30am, drive to Shute Harbour (approximately 10 minutes
away). Kayaks and supplies are loaded onto the water taxi which
transports us to Whitehaven Beach (on the south east of Whitsunday
Island. We set up camp and spend the rest of the day exploring nearby
Haselwood Island and bush walk to Chance Bay on the south of Whitsunday
Island. Both of these boast great fringing coral reefs for snorkelling.
Day2: We paddle north along the eastern coast of
Whitsunday Island (usually with the help of the following south easterly
winds), stopping off at the entrance of Hill Inlet for a swim and short
walk to the lookout with its breathtaking views. From here we continue
north to our camp site at The Cairn.
Day 3: It's an early morning walk to the Cairn
Lookout for breathtaking views of the stunning Whitsundays before
jumping into the kayaks for the paddle to our next campsite - Crayfish
Beach on the east side of Hoiok Island . This is often described as
the best campsite in the region , set against the backdrop of Mackeral
Bay. The coral is amazing and the outlook has to be seen to be
appreciated.
Day 4: The day leads us across the northern end of
Hook Island - stopping off at Mantaray Bay for lunch and a chance to
swim or snorkel before continuing on to the camp spot at Maureens Cove.
or Steens Beach (opposite Hayman Island).
Day 5: This is a leasurily day - with a
relkatively short paddle across the top of Hook Island to Steens Beach (
via Butterfly Bay). Plenty of opportunities to snorkel and relax!
Day 6: The group packs up camp for the last time ,
and then explores nearby Bali Hai Island ( Black Island) and Langford
Island . After lunch, the water taxi arrives and takes the group and
gear back to our base at Shute Harbour.
Note: The exact route for the 6 Day Expeditions will
depend on a number of factors such as weather, paddlers' ability, tides
and barge availability and may change before or during the trip if
required.
COST
$1850
DURATION
6 Days
DATE
June to October . Other time available for private groups.
PICK UP TIME
To be advised
MINIMUM AGE 16
(under 18 years must be with adult, unless with private group)
PRIOR EXPERIENCE
Not necessary, however the fitter you are the more you will enjoy your paddle
FOOD
All meals and snacks supplied from Lunch on Day 1 to Lunch on Day 6, please Advise us of any dietary requirements
PADDLING
Approximately 4 hours per day interspersed with breaks
WE PROVIDE
Kayaks and equipment, all camping
gear, snorkelling gear/stinger suits, food Eating utensils, dry bags,
group first aid kit, guide has satellite phone
YOU BRING
Hat, sunscreen (30+), insect
repellent, water bottle, sunglasses, waterproof camera, head torch,
suitable footwear (that is okay to get wet), walking shoes(runners are
fine), medication, swimmers, towel, toiletries, clothing (most choose a
long sleeved Light weight Shirt for paddling), a set of warmer clothes
for evenings, light wind/rain jacket, space is important, do not pack
too much.
Alcohol, fishing gear, book (all optional)
OTHER ACTIVITIES
Guided bush walking/sight seeing, snorkelling and swimming
GUIDES
Approximately 1 guide per 8 paddlers,
qualified and experienced sea kayakers with local knowledge of sea
conditions, weather, flora/fauna and marine life, also trained in first
aid.
CLIMATE
Subtropical climate, mild winters and warm to hot summers